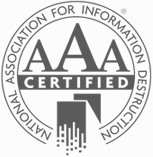 Classified Scanning & Shredding is certified by the National Association for Information Destruction (NAID) for the in-plant destruction of paper and printed media. We adhere to the stringent security requirements established by NAID, the international, non-profit trade association of the information destruction industry. As a certified member of NAID, we are subject to regular (both scheduled and unscheduled) audits, which are conducted by a third party.
NAID holds the industry's highest security certification and establishes and enforces minimum standards for:
Equipment
Operations
Destruction processes
Breach notification
Insurance
Training
Facilities
At Classified Scanning & Shredding, we're proud to be ISO 9001:2015 Certified. ISO Certification is recognized as the international standard for achieving excellence in system performance, customer service and continuous improvement. Through an audit process, it also provides our customers with third-party assurance of the integrity of our quality system and security procedures.
Classified Scanning & Shredding has a Certified Secure Destruction Specialist (CSDS) on staff. The CSDS accreditation, which is awarded by NAID, is given to individuals who demonstrate a high level of competency and in-depth understanding of the secure destruction industry.
Data protection legislation
Secure destruction operations
Physical security principles
Records management principles
Risk management principles
NAID AAA Certification
The Compliance Toolkit, developed by NAID to help organizations create written information destruction policies, is only available through a NAID authorized CSDS.